The top program in the nation
Campus Explorer has ranked the Stan Richards School of Advertising and Public Relations as the top program in the nation. The free service and website claims 30 million students start their college search and planning through their website and provides pricing transparency, scholarship information, college rankings and other details on more than 8,500 U.S. colleges, universities and trade schools.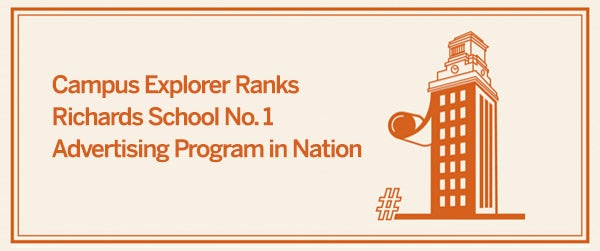 The publication notes that The University of Texas at Austin has a dedicated advertising department within the Moody College of Communication, unlike other universities that place advertising under the umbrella of marketing and communication. Campus Explorer also recognizes the size and resources of the program, adding that the Richards School offers one of the few Ph.D. advertising programs available worldwide and an abundance of scholarships and overall merit-based awards.
Other schools in the top five rankings include the University of California, Berkeley at no. 5, University of Kentucky at no. 4, University of Wisconsin at no. 3, and University of Minnesota at no. 2.
This isn't the first time the Richards School was ranked best in the country. A study published in the Journal of Advertising Education also ranked UT Austin as the top advertising program in the nation. For more, visit Campus Explorer's "5 Top Colleges for Advertising Majors."