Alumni Spotlight: Blake Cochran
Blake Cochran is a 2020 graduate of TXADPR's Master's in Advertising program. Whether through her work in the Texas Creative program or her incredible branding skills for Texas Immersive, Blake made waves during her time at UT and continues her impact with her freelance business, The Swallowtail Agency. TXADPR sat down with Blake to discuss graduation during COVID-19, freelancing and what she's learned from her real-world work.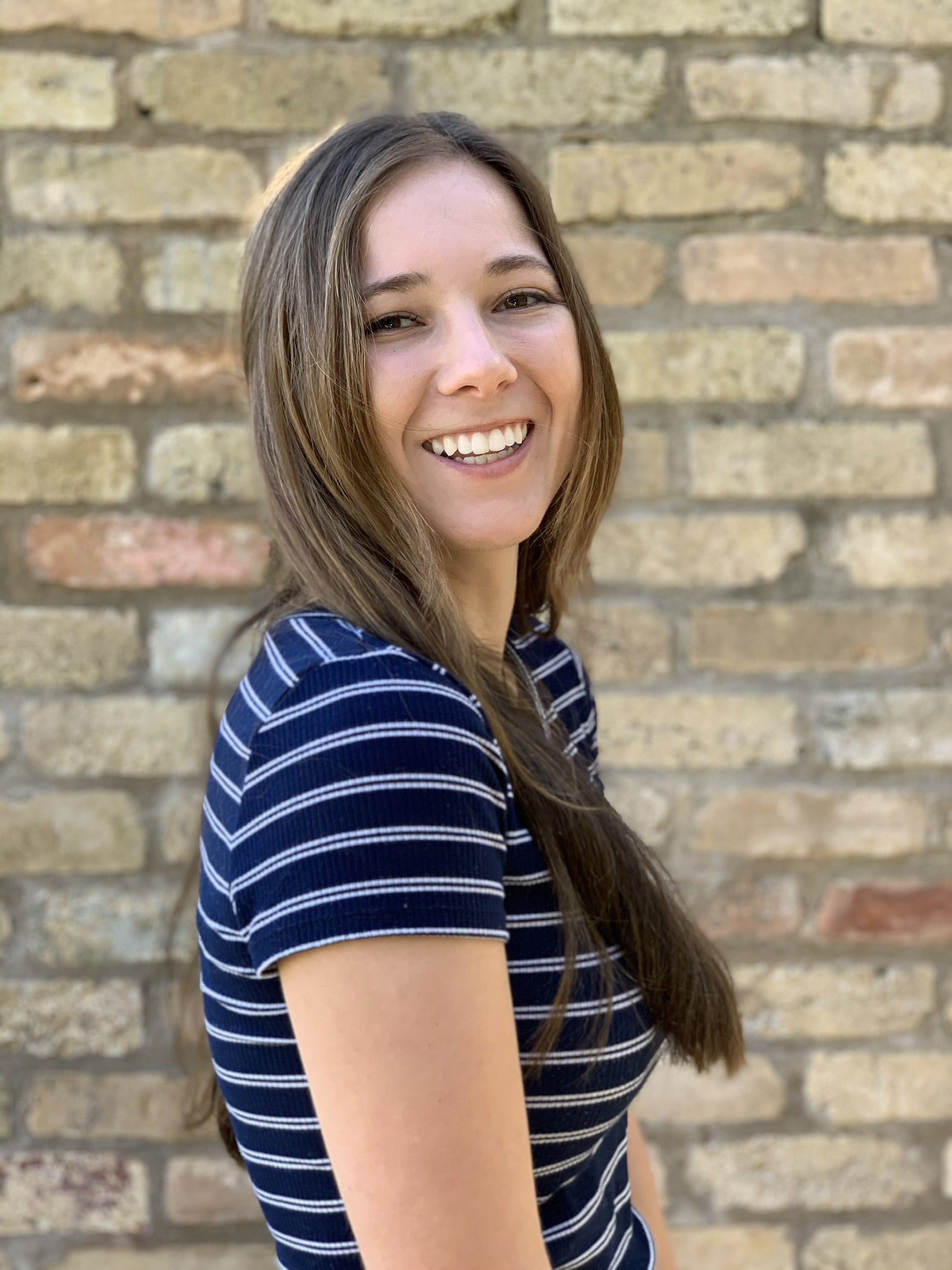 Blake was hustling hard to find a job last semester when the quarantine started. "I was sending out my resume, spending so much time writing cover letters and refining my portfolio. My spreadsheet was pristine. I probably applied to 30 jobs, then we had gone online and I was still applying. Everyone either didn't respond or was like, 'Hey, we've canceled this position.'"
That didn't deter her at all. "I'm not going to just wait around for something to happen to me. I'm going to really pursue this path I've taken. I've tried to do side projects, and starting a business has been enough of a side project too." But there are still roadblocks, with staggering layoffs across the industry. "Reaching out to people changed. People went from being open to get coffee with you to being unresponsive. For obvious reasons, everyone was fighting for their jobs, much less trying to help someone else get a job, you know? That was a little bit of a shock."
Good thing Blake was always a self-starter. She once told her mother about a design-centered architecture idea, but her mother responded with "'that doesn't exist.' Like, I'll show you, I'm going to open my own business one day!" And open a business she did, with the official launch of The Swallowtail Agency this summer after she graduated in May.
"I was planning to do it after working for three or four years, but I was like, why the hell not? Let's start now." She named the agency based on a gift from a friend: a handmade book about her, titled The Swallow Tail. "It means vulnerability, metamorphosis and transparency; everything that I aspire for in advertising." She finds clients, creates pitches, and sources a team of freelance contractors for each project, most of whom are also TXADPR alumni. 
According to Blake, the most rewarding part of being a freelance designer is "seeing people's brand come to life. They see themselves and see their own brand in real life. From there on, they want to invest more in it. It not only gets me more business, but it's getting them more business." 
The hardest part, however, is outreach. "It's the number of emails you send out looking for new customers. Most don't respond." Keeping up is challenging, and she hopes to hire a project manager to help run those parts of the business.
Her time at UT helped her understand how to apply her undergraduate degree in graphic design. She fondly remembers her graduate school orientation: "I showed up feeling, for once, like I am on the right path and I was super excited about it. I remember looking around like, 'I like you people already!' and I didn't even know them yet." She was happy to be surrounded by people who were passionate and worked hard to be there.
Once she was accepted to the Texas Creative program, she had another realization. On the first day, she met one of the newest Texas Creative professors, Rohitash Rao. "He told us all the things he's done and I'm like, 'Oh, this is great.' I don't have to follow a super strict path of intern to junior to senior. I can be a fine artist and an art director. I can learn to combine things. I don't have to pigeon hole myself. I can do whatever the hell I want and make it in my own way." Having a professor with this wide experience encouraged her to continue in the program and apply her fine arts skills.
Like any good creative, Blake has many interests outside of her work. "I try to find some sort of outdoor activity every weekend, whether that's hiking, or I ride my bike quite a lot, or paddleboarding. I love inviting people and getting to share those little happy moments in nature." She has also picked up oil painting and set up a home studio.
So, what does Blake want TXADPR students to know about freelancing? "Your network is your most important device. I know they say this a thousand times in every single zoom conference call, but make as many connections as possible. People want to work with people who are excited about what they're doing." She also believes a lot more people should turn to freelance work due to the pandemic.
"To soon-to-be graduates: keep applying, but don't be afraid to take that leap and showcase your work. Post on LinkedIn like, 'Hey, I'm open for freelance work. I would love to do these types of projects.' Be very specific, because if you're not, you'll be doing projects you don't want to do." For creatives specifically, she warns: "I have had not one single person ask me to create a print ad." She suggests transforming print ads into social media ads.
Lastly, Blake says TXADPR students interested in freelancing should familiarize themselves with requests for proposal (RFPs). While smaller accounts can be casual, for larger clients, "they want to see that [RFP]. I was not prepared to write one. I didn't have a template to start off with. I don't even know what to write in here."
She also suggests freelancers figure out their pricing beforehand. "It's a lot more than you think, once you put all the hours and time in. That's been a bit of a learning curve. The more uncomfortable you are with that price, the better work you'll do. I think every creative at some point is going to get freelance work. It's important to know how to price yourself." For those interested in learning more about how to start freelancing, she recommends The Resourceful Designer podcast.
TXADPR is proud of alumni like Blake who aren't afraid to take the leap and make their dreams work for them. Check out The Swallowtail Agency's work on Instagram or their website, and let us know your thoughts on freelancing after graduation!