Advertising Great, Cliff Freeman, Passes at Age 80
The advertising world has lost one of its greatest this past month. The award-winning copywriter and creative director, Cliff Freeman, has passed away at his home in Manhattan. He was 80 years old. According to his wife, Susan Freeman, the cause of death was due to pneumonia. Throughout the years, Freeman's sense of humor has been crucial in helping brands stand out in very competitive markets. His most memorable piece of advertisement has been Wendy's ad, "Where's the beef?" Cliff started off at the advertising agency Dancer Fitzgerald Sample and in 1987, he began his own small agency named Cliff Freeman and Partners. 
Freeman was born in Vicksburg, Mississippi on February 14, 1941. His parents, James and Lillian Freeman, owned motels and a dairy business. In 1963, after graduating from Florida State University with a bachelor's degree in advertising, Cliff joined the Atlanta agency, Battle & Lindsey. Following that, he headed over to McCann Erickson and within two years, he ended up at Dancer Fitzgerald where he worked for a total of 17 years. Cliff Freeman's ads were some of the cleverest and funniest on television. His work was original and fresh. In 1993, in an interview with New York magazine, Cliff stated that his clients were "Davids up against Goliaths". So in order to win over the audience, he confidently announced that they "have to win with wit."
After starting his own agency, Little Caesars was one of the first accounts Freeman had won. He is responsible for the simple, yet effective popular slogan that we all know by heart - "Pizza, Pizza!" Freeman's commercials were incredibly successful and it was definitely noted when sales increased by 138 percent from 1988 to 1993. Little Caesars remained his top client for 11 years, and their partnership together ended in 1988 when the company decided to change agencies. In addition, Fox Sports was another client that benefited from Cliff's work. The main focus of his campaign was on the National Hockey League and NBA. The campaign "It would be better if it was hockey" was phenomenal in getting the message across in just the first 10 seconds of the advert. In true Cliff Freeman manner, the rest was saved for humor and laughs. It still remains a classic today. Freeman accepted any form of recognition, rather it be good or bad. He took it as a sign of a great job when people discussed the content or even protested it. This was evident when one of his popular Wendy's commercials promoted the chain's breadth of food choices by parodying the lack of choices in Soviet society. This created an uproar so loud that the Russian government protested it.
Cliff Freeman's work has won various awards throughout the years. Many of which included Cilo Awards for his innovation in advertising. His awarded work included clients like Little Caesars, Philips and Outpost.com, and for a series of ads for Fox Sports' National Hockey League. Marketing executive for Fox Sports, Neal Tiles, stated that Cliff took "creative ways in a strategic way." He was well aware that fast food markets were very competitive so he tried not to take his work too seriously. This led to his tremendous success.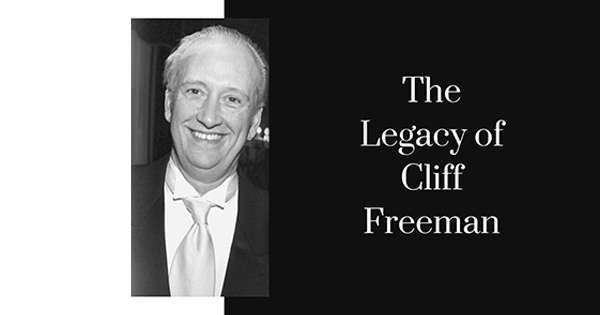 Cliff Freeman has left a lasting impact on the advertising industry. He has allowed creatives to see things in a new light and help others become more humorous in their work. His clever strategies have allowed the industry to slam the competition in a fun, humorous way that allows them to accept it. Because of Cliff Freeman, the advertising world is much more vibrant and fun.