Baby Yoda Vs. Baby Peanut
A few months ago, Disney Plus released its first take at a live action Star Wars series, The Mandalorian. While the show gained the attention of every Star Wars fan, there was one character who stole the spotlight, Baby Yoda.  Also known as "The Child,"  Baby Yoda is a smaller, cuter spinoff of the original Yoda.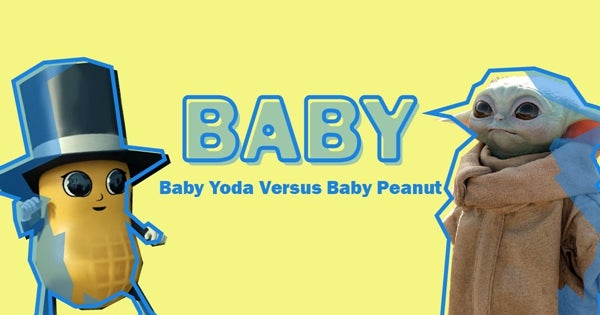 Since its debut, Baby Yoda has blown up the internet; the character quickly became the #1 toy sold on Amazon. Popularity of Baby Yoda increased at such a tremendous rate that Disney received blowback from its success. The brand is now sold out of the "pre-order" merchandise and has estimated they will not be in stock until Spring of 2020. In December of 2019, due to the lack of inventory, it was estimated that Disney potentially lost out on almost $3 million worth of revenue.
One toy in particular, the "Baby Yoda Plush" is so popular that fanatics are taking to eBay to spend well over $100 for the 11" toy. However, if fans don't want to pay for the Disney-approved toy, a homemade Baby Yoda can be bought for half the price. Fans better hurry, though, because it appears Disney has caught wind of the homemade toys and are on the hunt for the distributors.
While it is debatable whether Baby Yoda can be considered the best marketing idea Disney has ever had or the biggest disaster, other brands are still taking note. Recently, Planters replicated the idea and introduced Baby Peanut. Since the Super Bowl, Baby Peanut has attracted over 3 million views on YouTube. However, Baby Peanut has a long way to go if he wishes to compete with Baby Yoda who topped Googles 2019 Trending U.S. Searches.
Although Disney is not the first brand to present a plot twist in this manner (e.g. Baby Groot in Guardians of the Galaxy 2), none have been as popular as Baby Yoda. This leaves us at TXADPR wondering if Baby Yoda is the undefeatable champion. What do you think? Will Baby Peanut make as big a splash in the marketing world as Baby Yoda? Is this marketing technique being overused? Let us know!