Class Summary: ADV 369 — Social Media with Dr. Wilcox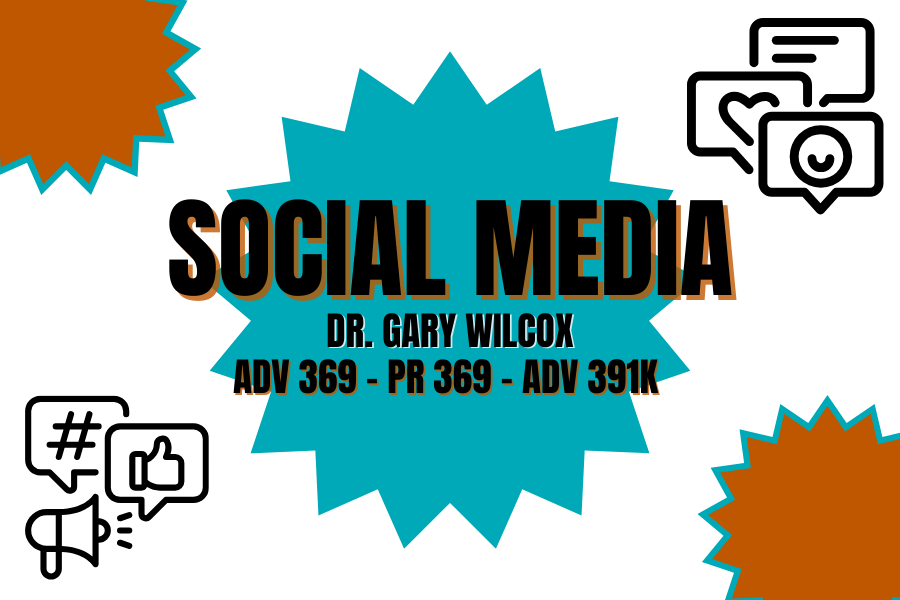 It is simple to undervalue social media's extensive reach and influence in our world today. However, as we continue navigating the world of digital landscapes it is easy to see how social media's influence will continue to lead the frontier lines of communication. Social media has presented itself as the most versatile social structures for people around the world to express thoughts, opinions, connect, learn, and much more. Its usefulness in our society paves the way for businesses, organizations, and causes to be heard and seen. This semester, I have had the privilege to take the TXADPR social media course at UT within the Moody College of Communication under the guidance and leadership of Dr. Gary B. Wilcox (social media - ADV 369). 
This course opens its doors for both master's and undergraduate students to offer them the opportunity to step into the ever-expanding universe of social media. As social media continues to be so prevalent in the eyes of the student body of our university, there is nothing better than university students themselves being the ones to encourage, promote, and extend these tried and tested social media practices to TXADPR platforms. As members of this course, we embark on the journey to challenge our creative minds by creating, posting, and engaging in social media trends to garner attention, likes, clicks, and views for our brand; Texas Advertising & Public Relations (TXADPR). This course dives into what the possibilities are and what the current state of our digital age has to offer. 
Our course also has the purpose of growing the TXADPR brand across social media platforms most popular to our target audience; students, faculty, potential incoming students, and alumni. You may know these platforms as: Facebook, Twitter (X), Instagram, LinkedIn, and YouTube. Balancing our content throughout all social media allows for precision and for our team to monitor insights and strategize what would be the most effective to help garner more attention. Students are split into four interactive teams that each tackle a distinct focus specialized to individual learning experiences. 
What are the four social media teams?: 
Original Content Team

– This team's focus is to continue producing original content through various TXADPR platforms to produce for our social media properties. Content includes Instagram reels, written articles, graphics, and more. 

Community Management Team

- This team is charged with the strategic scheduling of messaging across all TXADPR social platforms and enhancing brand interaction using Buffer. 

Promoted Content Team

– This team aims to use the power of Facebook's ad platforms, Ads Manager, and Google Ads to amplify the reach and engagement of TXADPR branded content.

Listening/Analytics Team

- Armed with tools like Buffer and Google Analytics, this team strives to monitor and report metrics. Understanding insights guides us to refine our content strategy and see what is effective for optimizing social media management. 
This course is a hands-on learning approach to social media best practices and how social media presents itself to people globally. Along with the opportunity to grow and pursue a career within social media such as marketing and advertising, this course is a tribute to the power of creativity, strategy, and analytics inside a university classroom.