Death of traditional media greatly exaggerated, says Pierpont's Chris Wailes
Chris Wailes, vice president of national media relations at Pierpont Communications, introduced his Oct. 16 guest lecture with the help of Mark Twain: The death of traditional media, he quipped, has been "greatly exaggerated."
Reflecting on his 26 years of media relations experience, Wailes spoke to students in Dave Junker's public relations techniques class on the relevance of traditional media and how to work productively with old media in the new media age.
Wailes pointed out that more than 5 million people watch TV news and much of that content feeds social media. Wailes also said that new media helps traditional journalists do their jobs, as some reporters also write blogs and listen to the comments of readers, fostering two-way conversations among readers, writers and industry sources.
Learning how traditional media work, he stressed, is vital to learning how to work productively with reporters and editors from print to broadcast media. When pitching a story to a reporter, he suggests putting a human face to the story idea and providing good sources.
Wailes says to study your client like a reporter would in order to "figure out a story angle, and tell it in a way that serves more than your client's interests."
Such advice repeated the theme of helping the media do their jobs instead of asking them to help you do yours. If you do, genuine relationships with reports can be forged.
"Public relations has been and always will be a one-on-one personal interaction business," he said. "It's not just public relations, it is personal relationships."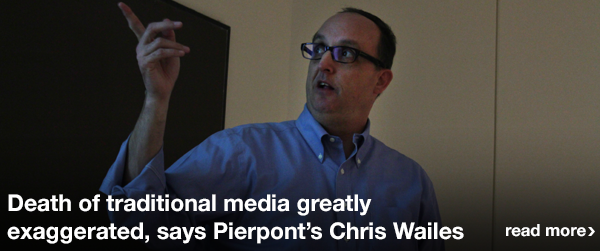 Based on such principles, Wailes said he developed a 17-year working relationship with Walt Mossberg, former consumer technology columnist at the Wall Street Journal. He believes that becoming a trusted and reliable source was key to his ability to get coverage for his clients in national channels as diverse as the Wall Street Journal, Forbes, The New York Times and National Public Radio.
When asked about how to build rapport with reporters, Wailes suggested reading a full year of the reporter's work and identifying any topics related to your client's situation.
"Chris is a dynamic speaker," said Junker. "And his wisdom, built over an impressive career, reinforces the hard lesson that reading the newspaper is still important, not just to stay on top of current events, but in order to get to know the people who can cover things relevant to your client."
Last year, Wailes delivered a version of his lecture at the National Press Club in Washington, D.C. Pierpont Communications, for whom he works, is one of the largest independent strategic communication agencies in the Southwest and has offices in Austin, Dallas, Houston and San Antonio.