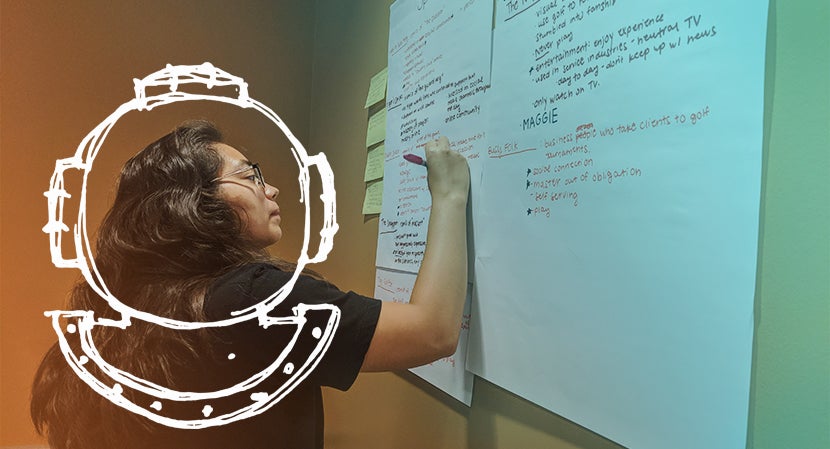 About Texas Immersive Specialization
Interdisciplinary Disciplines
This specialization offers a convergence of disciplines in audience engagement, storytelling, and emerging technology. Students involved in Texas Immersive will test their hypotheses through action and work with real-world clients.
1] Audience Development & Engagement – Understand and identify an audience's intention, expectation, interaction and relationship with space and emerging technologies to better understand affinities with brands and the varied ways to activate an audience. Conduct research to develop audience profiles and using the research, future forecast engagement strategies that leverage participation, agency, personalization, and digital currency.
2] Experimental Storytelling – Understand the expansion of mythology and archetypes, explore a variety of emerging technologies that afford new ways of telling stories and apply them to world-building scenarios and activations that offer customer personalization, interaction, and reward.
3] Immersive Experience – A cumulative course that brings it all together with the understanding of an audience, the language of development and awareness of the affordances of each medium to use them effectively in designing immersive user experiences. Students will work on a real-world client project, which will also be prepared for entry into an immersive storytelling competition.
*Immersive Hack Lab offered during summer session – Explore how emerging and mobile technologies are central to the way we engage in participatory practices of creating, communicating, collaborating, and circulating stories. This is a "think & do" course offering you an opportunity to learn together through experimenting (a.k.a. hacking) and sharing knowledge via special interest groups (SIGs). Within these SIGs, students will acquire possible certifications in varied software platforms depending on the special interest group chosen, emerging technology, skill level, and learning path design personalized within each group. From this experimentation, individual students will create a solo immersive project to showcase the final week of class.
How will you learn?
First, you will learn from each other. Each student accepted into Texas Immersive is chosen for their unique gifts they can contribute to the whole. We foster teamwork and collective intelligence in all projects making sure we pool our knowledge and practices together towards a common goal.
Second, this program is under the guidance of Professor Erin Reilly and expertise shared from guest speakers invited into the classroom each semester. Check out some of our guests on our YouTube Channel.
Lastly, we encourage students to visit the imagine Lab (CMA 6.154). Attend imagine Meetups 2nd Wednesday of every month (6:00 PM to 8:00 PM) for demonstrations and networking, and, join hands-on workshops to tinker with emerging technology offering students experiential learning that is thought-provoking, hands-on and relatable to what's happening in the emerging field of immersive.
Example of Course Projects