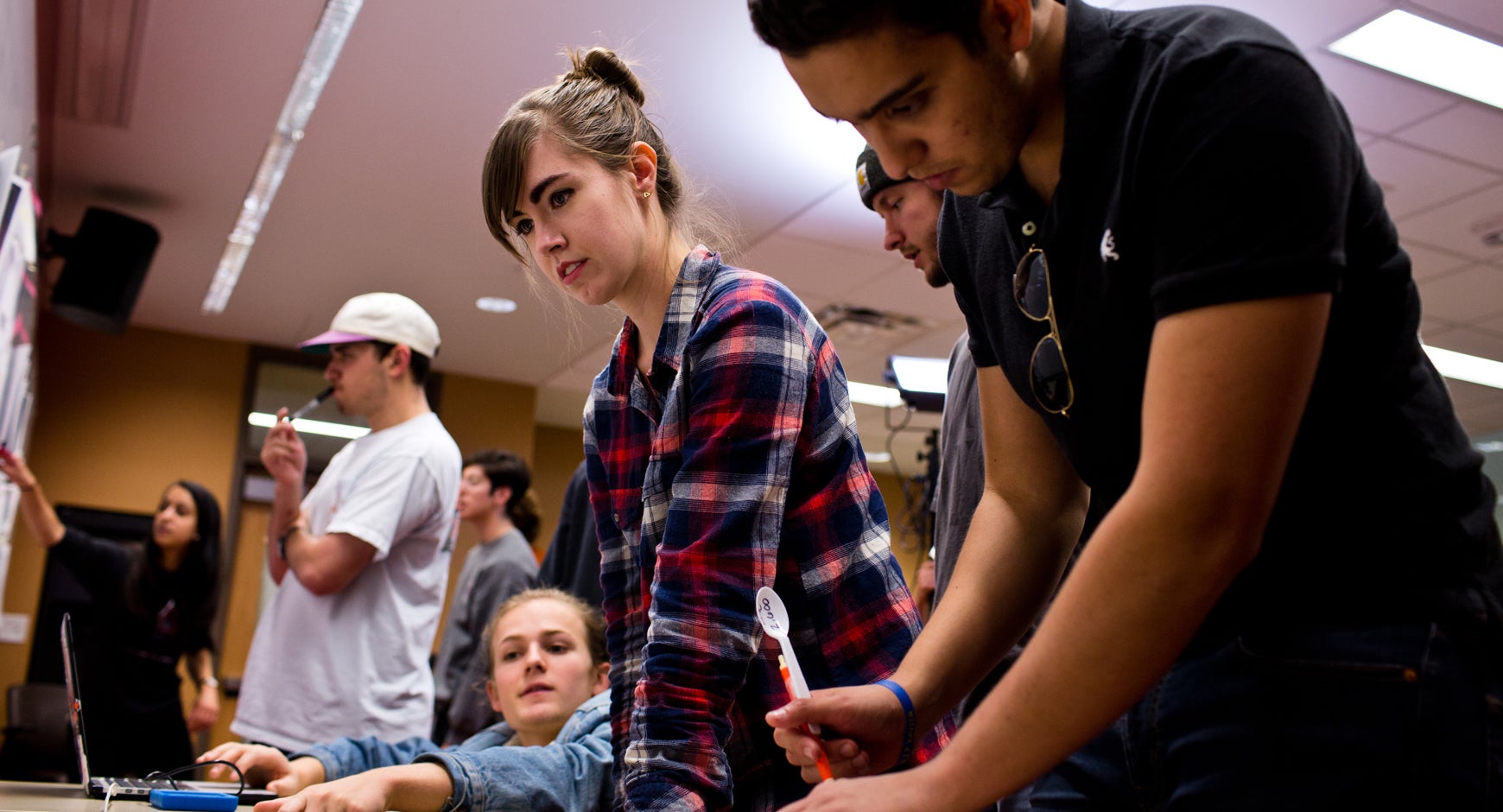 Comprehensive yet Focused
The Stan Richards School of Advertising & Public Relations is committed to research as part of a Tier 1 public research institution. We also focus heavily on current industry realities and mold our students into the next professional leaders in that world. The combination of these two focuses yields our motto: Theory x Practice.
Our curriculum starts at a holistic level, immersing the student in the wide-ranging subjects of advertising and public relations to allow for an accurate understanding of the two studies.
All our advertising and public relations students in the Stan Richards School of Advertising & Public Relations (SRS) take courses that prepare them to tackle the challenges presented in this evolving environment. To accomplish this, the SRS curriculum incorporates broad exposure to the following required courses beyond an introductory, overview course: creative strategy, media, research, management/strategy, ethics and law, and a capstone campaigns course. Integrated into this core curriculum is coverage of promotional events, big data, social media, digital media and analytics, KPIs (key performance indicators) and a dynamic range of other topics. 
In addition, the SRS offers students an opportunity to delve deeper into media and creative through our acclaimed Texas Media and Analytics, Texas Creative and Texas Immersive sequences. These specialized sequences are only open to a small percentage of our students by competitive application at the beginning of their junior year.
The advertising and public relations course catalog gives students the opportunity to build their own specializations outside the required coursework, and sequences with classes focusing on topics such as New Media Entrepreneurship, Black Music and the Media, Sports Contract Negotiation Techniques, Advanced Issues in Multicultural Markets, Psychology of Video Game Advertising and many more.
Students also have the choice of adding focuses from our special programs offerings that include the Business Foundations Certificate, the Elements of Computing Program, the Latino Media Studies Program and the Semester in Los Angeles Program.
Preparing for the Real World
To begin a career in the advertising and public relations industries today at the entry level requires more real-world experience than ever before. To prepare for this we require two things of our students: 1) An internship for credit and 2) extensive group work on projects in the classroom for real clients.
Referring to point two mentioned above, whether it's in a Public Relations Techniques course or in our capstone Campaigns class, our faculty work hard to give students as much experience as possible working and presenting to real clients on long-term projects. Past clients have included Samsung, UT Athletics, HEB, start-ups such as HomePlate Peanut Butter and local nonprofits.
Cost Comparison
Learn about the cost of attending at the "Be a Longhorn" website. The University of Texas at Austin is highly regarded as a major research university, with many of its colleges and departments ranking among the best in the nation. Surprisingly, it is one of the least expensive universities in the country.
The Graduate Program
​Whether your objective is to become a professor at a university or a member of the professional advertising community, graduate study in the Stan Richards School of Advertising & Public Relations is designed to help you meet your goals.
Graduate work in advertising may lead to a Master of Arts (M.A.) or a Doctor of Philosophy (Ph.D.). The candidate for a graduate degree completes specialized coursework in advertising as well as advanced-level coursework in one or more relevant subject areas.
The Stan Richards School is the only program in the world to offer a Ph.D. in advertising. Our approach to the study of advertising is by nature interdisciplinary, as core coursework in advertising and research methodology is supplemented by classes in two additional fields.
Students from all over the world come to the Stan Richards School for graduate education in advertising and strategic communications. In a typical year, around 100 master's students and 30 doctoral students are enrolled.
Contact Us
---
Director
Natalie Tindall
Isabella Cunningham Chair
Associate Director
Laura Bright
The University of Texas at Austin
Stan Richards School of Advertising & Public Relations
300 West Dean Keeton, A1200
DMC 4.338
Austin, TX 78712
512-471-1101 main
512-471-7018 fax
email: advertising@austin.utexas.edu
---
How to Get Here & Where to Park
Stan Richards School of Advertising & Public Relations is located
in the G. B. Dealey Center for New Media (DMC) 4.338
DMC is located at the northwest corner of Dean Keeton St.
(formerly 26th Street) and Whitis Avenue.